OnePlus have announced for a OnePlus Diwali Dash out sale. It is just like a random selection contest. The sale was for 3 days and 3 timings 12 PM, 4 PM, 8 PM. Random customers will be given Diwali gifts which include OnePlus 3 mobile, accessories, and T-shirts. The Total number of gifts are 27,000. At each batch, 3000 gifts will be given. Gifts are not completely free but we have to pay Re. 1.
To participate in this lucky draw offer we have to sign up in OnePlus website. Only one offer for one account. You will get more chance of winning if you register your OnePlus mobile with its IMEI number, inviting more friends to this contest with your referral ID and by purchasing any product from their OnePlus store.
Even though I have seen this offer already I haven't paid attention on this since I don't believe such lucky draw contests. Every time when I spend some time on these hinky things I was just loosing my time. So I have skipped this contest. But on the 3rd day (26 Oct 2016) 7:30 PM I have read their mail about this contest. Was little bit frustrated after reading current affairs for my Civil services examination, So just jumped into the contest. Read the rules & procedure to join. Finished simple sign in process. It asks me to register my OnePlus product so that the chances of winning may increase. The Contest was by 8PM so there will be definitely a huge rush for this sale. So to increase my winning chance tried to register my OnePlus product. But it shown my IMEI number is not a valid OnePlus device. I don't know why it showed the message. Tried after reloading for 5 mins. Same error repeated. So tried to invite friends. None of my friends were online. Its 8 P.M by now and the contest started. There was a 'GO' button available at the center of the page. Clicked on it. it showed Sorry, better luck next time. Actual message varies from this text. It sounded like there is nothing in the box, try another time. But I' not sure of it.Clicked ok and waited for 3 secs to refresh. Then again clicked on GO button. The same popup appeared. Waited for 3 sec and then tried once again. The same message was repeating for me more than 20 times. there was also a countdown for the number of gifts remaining. It kept on decreasing but I didn't get a chance of winning. It came down from 3000 to 300. But no luck. When there were only 140 gifts left I gave a last try. It was 8:02 PM. By the time it said Congratulations you have won a mystery box. But to open the Box it asked me to pay. I have seen in the rules section that we the payment process have to be completed within 3 mins. But unfortunately, there is no cash on delivery or net banking. There was only credit Card/Debit card. got pissed. because my debit cards were currently locked because of wrong password trails. I have Scolded myself for losing this opportunity. But there an another option. It asked me to pay by PayU money. Tried to login inside that website. I asked for my password and said my email ID was already registered. I went on with Forget Password section but it sent OTP to my old mobile number. Once again got pressurized. My old sim is a regular sized sim. My Gionee and OnePlus mobile only support micro/nano sim. Just ran to my neighbor's house and there was an extra mobile used like a landline phone. Took it without their permission as the session time would finish within 3 minutes. Thrown away their sim and inserted my mobile. There was no tower. So ran around the house to get the signal. Finally got tower but not SMS. Then made some calls to 121 and got a secured connection to airtel. finally got my sms. Received OTP in it and have entered it and paid through SBI net banking which also had SMS OTP confirmation. All these were done within 3 mins. I was in a jet speed to do these and complete Oneplus Diwali Dash out sale.
Finally I have ended my participation with a Bag.
Only later I have seen that screenshot which asked to pay within 3 hours and not 3 mins.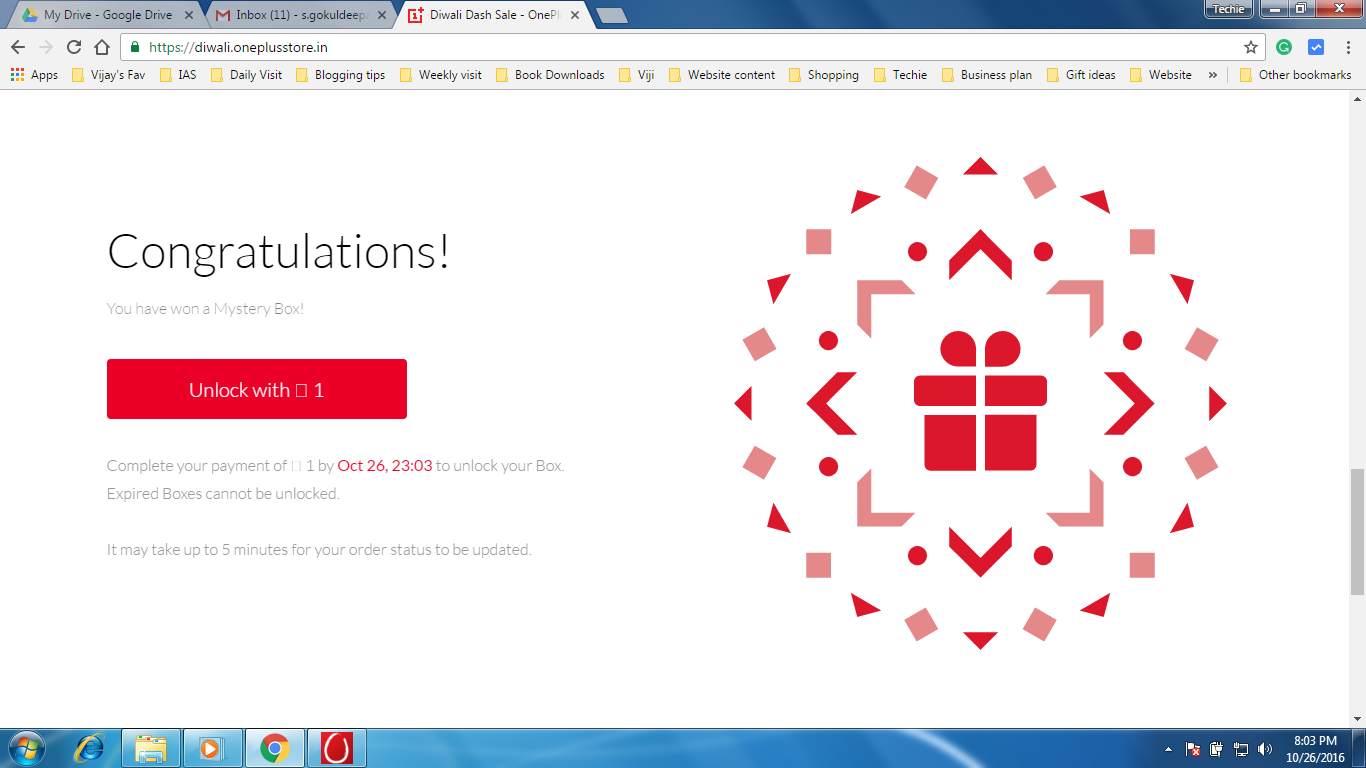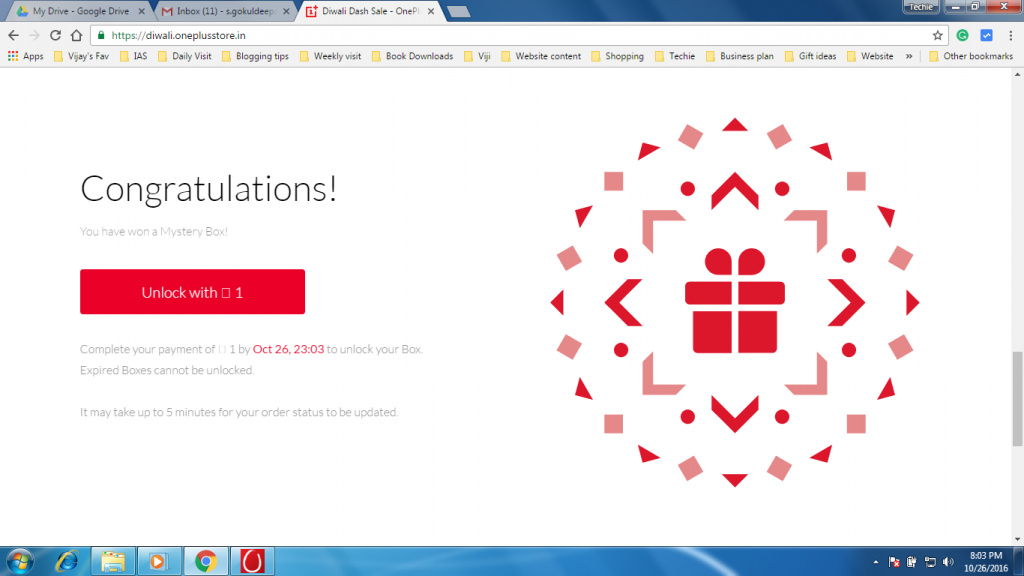 Got lucky with OnePlus Diwali Dash Out Sale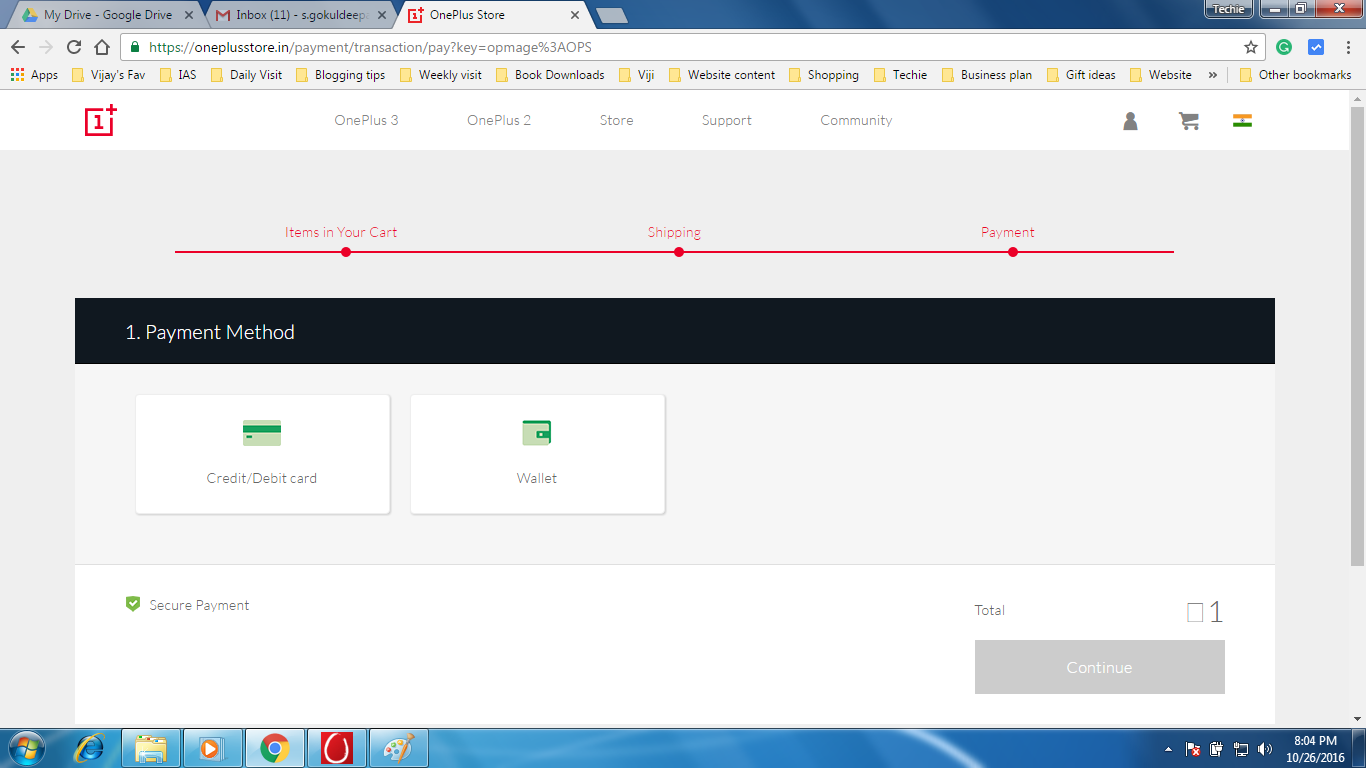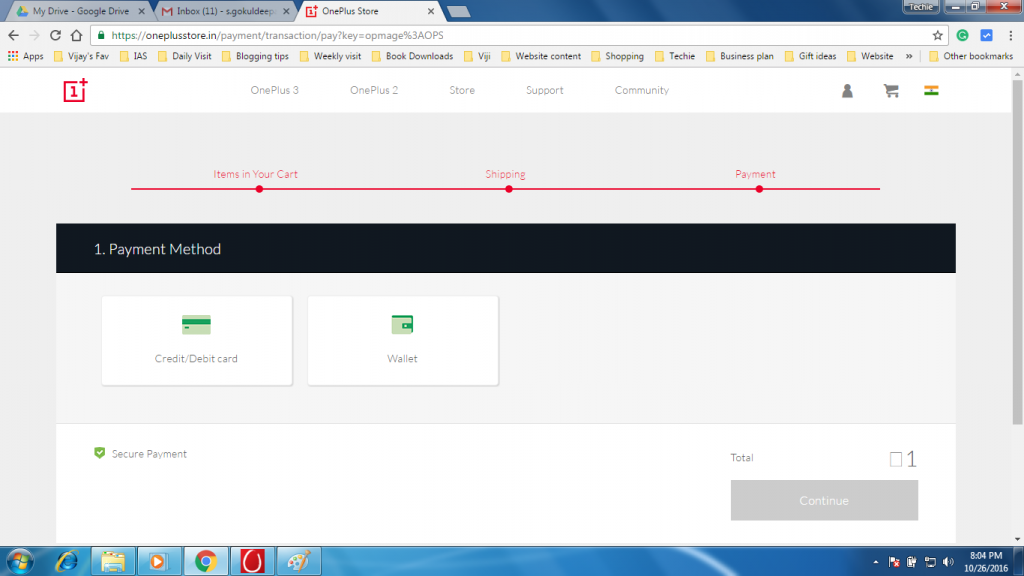 This is my bag won in OnePlus Diwali Dash Out sale for Re.1